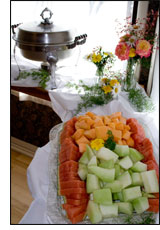 ABOVE AND BEYOND PARTY ROOM

Spring, 2006 brought the opening of our newest venture -- the "Above and Beyond Party Room." Completely private and tastefully decorated, our party room is available to groups up to 32 guests for any special occasion. Room rental is free-of-charge when enjoying our many catered menu options.

CLICK THUMBNAILS TO ENLARGE

Feel free to contact us with questions and/or comments.